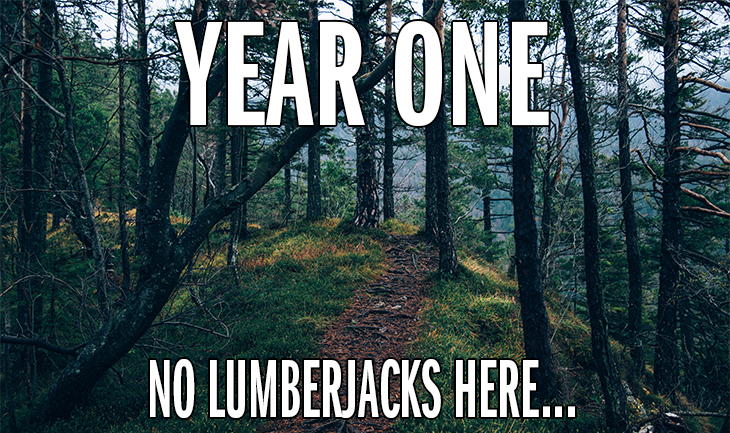 One year ago today, I posted "Gutterball" on this site.
This weekend, I will post the 14th short story, here — a new story entitled "The Art of the Lumberjack."
I planned to write only a couple new stories in the first year of Not about Lumberjacks, but I ended up writing more. The list:
"Horus" – A writer's assistant seems to find the perfect job, until she gets more than she bargained for with an African grey parrot named Horus. (A fan fave!)
"The Other Side" – A recently divorced, unemployed man breaks into his childhood home to see if a magic portal to another realm in his closet is still there.
"Standstill" – At 18, Maddy's grandfather gave her a pocket watch that does more than just tell time. 18 years later, she finally uses it, getting much more than she bargained for.
"Purvis" – In 1984, a Dungeon Master struggles with keeping the few friendships he has together, all while dealing with a vicious bully. (My personal favorite!)
"Strange Audio" – A genuine audio drama in which a podcaster hears strange voices while editing a show.
"The Art of the Lumberjack" – Coming this weekend — A workaholic finds something in a book left to him by his deceased father that changes his life forever.
One can argue that "Pride of the Red Card" was also new — it's a mostly fictional monologue based on a couple essays.
* * *
I started Not about Lumberjacks because I'd drifted away from short fiction. Last year, I wrote more short fiction than planned because I left myself no other option.
I knew by starting this show that I'd have to do the work. So…
Thank you to everyone who's listened to or shared the show with others. It's not uncommon to put 20-40 hours into an episode, so it means so much to me that people enjoy what I'm doing.
Here's to another year!