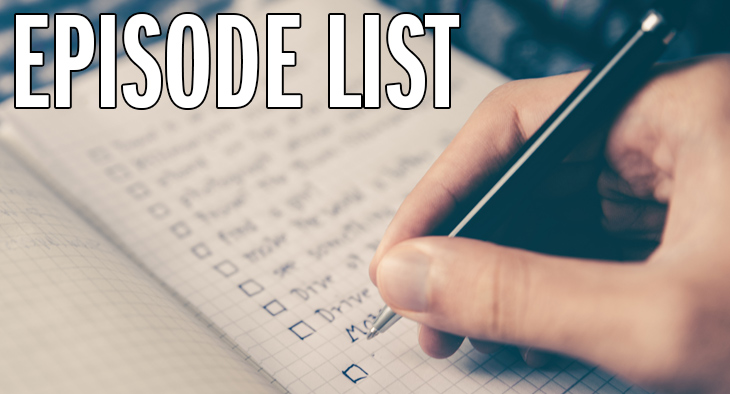 YEAR THREE:
7 Stories – Seven pieces of micro-fiction, including a Christmas story.
The Hidebehind – Something lurks in the woods outside a lumber camp in this story I SWEAR is NOT about lumberjacks…
YEAR TWO:
Memorial Park – An after-school fight pits the meanest kid in Walt Whitman Junior High School against one of its shyest geeks.
Cubicle Punks – Two aging punks come to grips with who they once were…and what they've become today.
Bobo – A kid's party clown comes to grips with what he's become.
El Concusso – A professional wrestler can't remember who he is after hitting his head against the ringpost during a match in Mexico City.
The Art of the Lumberjack – When Erik Nilsson has a minor heart attack and finally reads a book left to him by his father, he finds something that will change him forever.
YEAR ONE:
Strange Audio – A podcaster discovers some ghostly audio while editing an episode of his show.
Purvis – In 1984, a Dungeon Master struggles with keeping the few friendships he has together, all while dealing with a vicious bully.
Shadow Dancers – Find out what happens when four boys figure out how to separate their shadows from their bodies…
Fly Me to the Moon – A homeless man who talks with birds is convinced he can talk with his dead wife on the moon…if only he can fix a broken radio he found in a dumpster.
Standstill – When she was younger, Maddy's grandfather gave her a pocket watch that does much more than simply telling time.
The Weight of the World – An exhausted single father comes to grips with his children and dating issues during a visit to his psychologist.
The Other Side – After a divorce and layoff, Daniel breaks into his childhood home to see if something in his closet all those years ago is still there…
A Magic Life – A sneak peek at the first chapter of my novel, A Magic Life. (About a girl born in a circus in the 1920s, and her rise to fame in the 40s and 50s.)
Rabbit Eyes – The owner of a software company becomes very uneasy when he discovers someone close to him is trying to control his mind.
Looking for Dogs – Dicky Wingfeld has it all: a great job, a loving wife, and a new house. But Dicky also has a problem: a father who cannot seem to stop collecting junk.
Horus – Sarah Nelson gets more than she bargained for when she answers a job for a writer's assistant and must deal with the writer's parrot, Horus.
Mr. Knowitall – Jerry's brother inherited the family business — his sister, the family fortune. All Jerry got was a toy Magic 8-ball that does more than expected.
Pride of the Red Card – A mechanic is happy to hear his son wants to sign up for football; that is, until he realizes what his son really means is soccer…
Gutterball – English bulldog named Gutterball (and the family who loves him) must contend with the dog's bad habit of eating everything in sight.